Driving patient-centricity through real-world evidence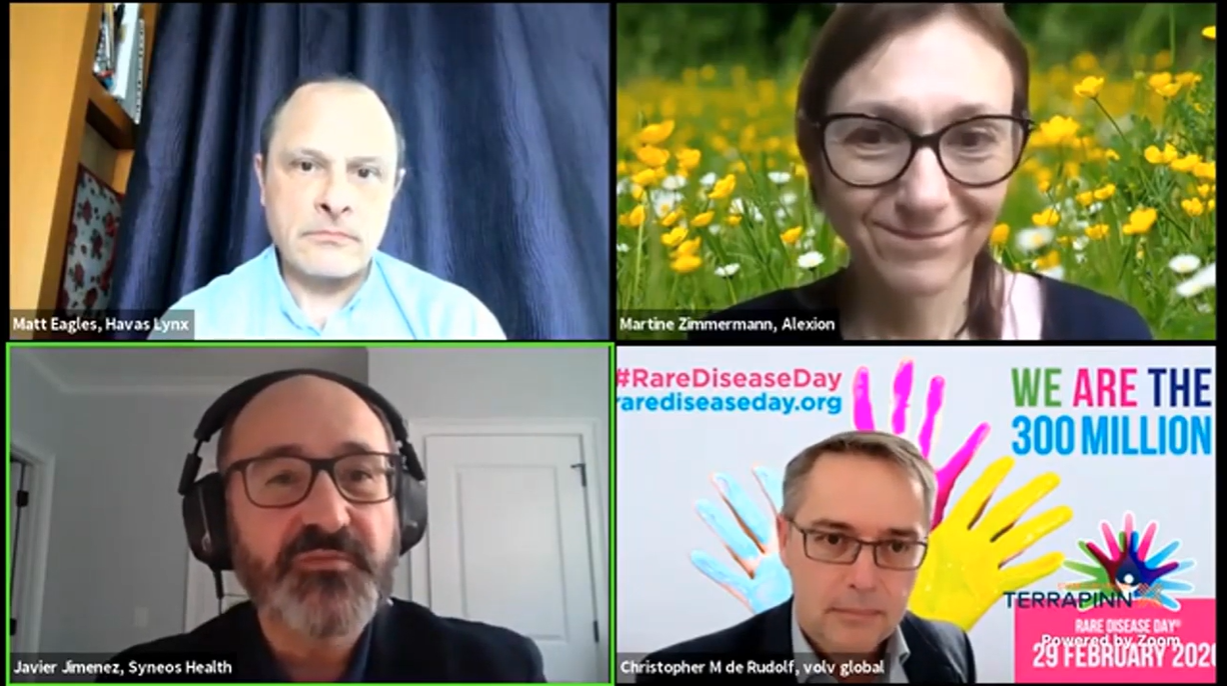 Executive Summary
To acknowledge Rare Disease Day and the struggles facing patients with rare diseases, the World Orphan Drug Congress hosted a webinar titled, "How can AI impact industry?" The session, which explores the role of real-world evidence (RWE) to improve orphan drug development and access, brought together leaders in their field with deep knowledge of rare diseases and the importance of RWE in helping to identify the right solutions for the right patient.

During the discussion, several important and often overlooked themes were brought to the fore. The purpose of this paper is to explore these in greater depth and share the unique insights from the panel. These include the integral role of the patient in owning, managing, and deciding when, how and where to share their data. Certainly, a patient-focused approach that safeguards the individual's privacy and ensures consent, is paramount if researchers and drug developers are to make full use of RWE to find therapeutic approaches and cures for rare diseases. In addition, the industry will need to address data sharing issues and legislative barriers and ensure they fully engage the regulators to bring therapies to patients in need. The paper provides a thoughtful and balanced discussion of these topics and aims to seed further insights as drug developers, clinical research experts, regulators, artificial intelligence specialists and, crucially, patients and their carers, seek to leverage tools such as RWE to help the millions of rare disease patients in need worldwide.
About the panellists:
Matt Eagles is head of patient engagement at Havas Lynx. Matt, who was diagnosed with Parkinson's disease at the age of 7, has spoken eloquently in many forums on living with a rare disease. He is a patient champion and advocate, a keynote speaker, moderator, and panellist, and heads a project, Parkylife, that helps people with Parkinson's and their families live brighter happy lives.
Javier Jiménez is executive vice president, RWE and late phase, Syneos Health, a fully integrated end-to-end clinical and commercial solution organisation. Javier has extensive experience working with rare diseases and navigating the challenges involved in getting the data needed to treat these diseases.
Martine Zimmermann, PharmD, is global head of regulatory affairs at Alexion Pharma, a global biopharmaceutical company focused on developing life-changing therapies for people living with rare disorders. Martine has more than 25 years of experience in global drug development and regulatory affairs across all sectors.
Moderator:
Christopher Rudolf is founder and CEO of Volv, a world-class leader in AI that has developed proprietary methods to find signals from sparse data to help identify patients with rare and difficult to diagnose diseases. Christopher has more than 25 years of experience as a technology entrepreneur and business advisor.
Introduction
Real-world evidence (RWE) is starting to play a more integral role in drug research and development. This is particularly true in rare diseases, where standard clinical development methods often fail to identify the right patients for clinical studies, particularly given the heterogeneous nature of symptoms among patients.
RWE refers to the clinical evidence derived from real-world data (RWD) that helps drug developers understand the patient experience and link it to the use and potential benefits and risks of a medicinal product. RWD comprises primary and secondary data as well as external data sources that provide further insights for developers.
Primary data typically refers to clinical data – for example, from electronic health records (EHR), lab results, diagnoses, procedures, radiology images, provider notes, and so on – as well as medical claims data, including prescriptions, and information regarding the medication (dose, method of delivery) and any concomitant therapies.
Secondary data comes from multiple sources, such as patient reported outcomes, mobile apps, social media, and even family history. These data sources are then supplemented with environmental and occupational factors, such as pollutants and lifestyle.
It's important to find ways to rationalise and leverage insights from this wealth of data to build development plans and address unmet medical need. Today, the amount of data points researchers must navigate far exceeds anything that can be managed manually – from the number of diseases to the number of symptoms to EHR data to disease variability and to patients' own experience.
By applying AI and machine learning to make sense of the massive amount of data generated both in the real world and in clinical trials, it will become possible to better understand the patient journey and tailor therapies to the individual in a way that will truly advance outcomes in rare diseases and improve patients' and caregivers' daily life.
None of this will be possible, however, without including the perspective and experience of the main stakeholders – the patients – to understand how they function and feel, what medical needs are of greatest priority to them and how to overcome issues of mistrust over the use of their data in the discovery and development process.
Rare Disease Differences and Commonalities
Martine: Every rare disease patient is different, sometimes with the same genotype but with different phenotypes. But while the differences are extensive there are commonalities, and this is where combining AI and the knowledge of patients and physicians can help to find common points to support a development programme. By combining the flurry of data and finding common ground early on to demonstrate the benefits to patients, it might be possible to explore regulatory flexibility (e.g., EU conditional marketing authorization or US accelerated approval) for a product and then continue with RWE insights once the product is on the market to generate more patient-specific data.
Christopher: The challenge with small, dispersed populations whose symptoms are described in different systems is that these descriptions are all quite different. Patients might be undiagnosed for five or even 10 years. With the right AI models, one can gain insights that were never possible before by observing patterns across vast populations in many different countries. The learnings are coming from medical science but are being observed through AI and that is helping to push the boundaries of science further. I think this goes to what Martine says, which is that researchers need to build the evidence early on and then continue to expand that knowledge and data over the lifetime of the product.
Javier: I have been working in the RWE space for 20 years and there has been a huge evolution of how RWE is used. When I started, the only way to collect RWE was through prospective registries. Now we can start to integrate all these different kinds of data from the patient's health record to data from devices to create the data footprint of the patient and start to apply machine learning and AI to make sense of the data. This is critical in rare diseases because the heterogeneity of patients for each disease is so high so we really need to understand the patient journey, their day-to-day experiences and tailor solutions for those patients and introduce analytics capabilities that will result in real gamechangers for product development.
Building a Development Plan with RWE at the Centre
Javier: There is a misconception that RWE only happens post authorisation/commercialisation. In reality, and particularly with rare diseases, it's important to gather RWE as early as possible. That comes back to starting work in RWE as early as possible and understanding the patient journey. What outcomes are of interest to the patient and caregiver? What do you need to measure in the clinical trial? And what is the disease progression? You need that information if you want to carry out a clinical development plan that is tailored to the needs of the patient and not just to get a product approved.
Martine: The challenge here is to ensure we are capturing data consistently because if there are a lot of holes in the data, there won't be the regulatory value needed. Otherwise, when you build a development plan, you're assuming there is a database out there only to discover that there are gaps in longitudinal data.
The Role of the Regulator
Martine: We need to make sure we actively collaborate with regulators to predict and avoid roadblocks in developing and bringing to market products for rare diseases. Perhaps one of the benefits of Covid-19 has been a willingness by the regulators to be more flexible. As an industry, we need to capture those learnings, learn from it, and ensure that flexibility continues in areas of high unmet medical need.
Matt: Regulators are facilitators of change and by collecting the right data, the right evidence supported by AI it will become easier to have productive conversations with the regulators, while ensuring a patient perspective by engaging patient advocates.
Martine: Once you have started to pull together a development plan it is time to go to the regulators and show them the data you have gathered. Otherwise, you risk having evaluation issues in terms of demonstrating how the patient feels, functions, and survives. So, once you have some level of understanding, the pathophysiological mechanism of the disease, the mechanism of action of your drug, and how you applied the mechanism of action, and you can demonstrate that is impactful for the patients, then it's time to engage with regulators and assess how you can continue your programme with the limitations of small population data sets.
Engagement, consent, and privacy
Matt: I have lived with Parkinson's and dyskinesia, which are involuntary movements, for 46 years. I have had superb help from pharmaceutical companies and clinicians, and I feel I owe it to the people who have helped me to give back by sharing my story and my data. But I understand that not everyone wants to do this. From my perspective, the digital world and access to data is very empowering. It facilitates transparency and honesty about what we are experiencing as patients. It has helped me, and it helps others in the patient community, but it has to be a choice.
Javier: As CROs, we need to take into consideration the particularities necessary for the design of a study that is patient centric. Sometimes we forget how difficult it is for patients to go through all these tests and to travel to sites. Covid has been an accelerator in terms of bringing trials to patients and minimising disruption to their lives. Regarding permission to use patient data, usually we work with fully anonymised data. However, this is more difficult with rare diseases because the patient numbers are so small, which makes privacy more complicated. In this situation patient trust and ensuring the patient is willing to sell their data is a given. Protection of that patient data needs to be stronger. On the other hand, as researchers we need the integration of that data to ensure we have enough insights, so it's a matter of finding a balance by, for example, using data from previous studies to gain knowledge for future studies. The challenge is that when we try to re-analyse data from those previous studies, the format used does not allow it to be adapted for future studies. So, we need to adapt and improve the contract between researchers and patients to ensure that there is informed consent for using data in different studies, while always protecting patient privacy and patient rights.
Christopher: When you are looking at multiple patients with heterogeneous symptoms you often have messy data. What we have found is you can build transparency by creating interpretable models from the black box. And those models are understandable for clinicians, so you can explain to the clinician why a certain patient is suspected to have a certain rare disease by pulling data that is meaningful to the clinician. Building that transparency and trust is important for every stakeholder.
Creating a shared purpose
Matt: It's essential to build that a relationship and shared purpose with patient groups, because once you do that, people will invest in what you are doing. Patients are increasingly investing in their own health, and they expect pharma companies and health care professionals to do the same. Even if it turns out you aren't going to get your desired outcomes, you need to share that information with the patient. Don't be afraid of giving bad news, because you can move on from that and take the next step.
Martine: I agree with Matt. We should be eager to engage with patients. Make sure you understand your drug development journey, which is the pathophysiological mechanism of the disease and how it expresses and the mechanism of action of your therapy and share that with the patient. Many times, patients want to be involved and are now key partners in the mission to develop therapy for rare diseases. With patients actively involved in R&D, we learn in real time what matters and can make decisions accordingly.
Christopher: By engaging with patient communities early on you are learning more about the disease before you cross into the abyss from early stage in-vitro investigations to clinical studies.
Javier: Engaging with those communities is important, to understand how you will develop your target drug. What symptoms create the most disruption for the patients? What is relevant for them? Sometimes the science might be telling you to do one thing, but we need to stay focused on what we want to achieve and that is what is relevant for the patient.
Overcoming data sharing issues
Javier: Privacy issues can be a problem when it comes to different legislation across various countries and in some countries, companies may need to be more careful when managing this type of data. In my experience, patients are actually more willing to share data because they understand the relevance, but it is our responsibility to ensure their data is used and managed properly according to privacy standards. However, as technology advances, we're getting to the point where data doesn't need to be taken from a particular site or country. Instead, by building federated models, you can stream the analysis of the data or the outcomes, and simply integrate that across different databases in different countries. I believe the technology will help to protect patient data, ensuring companies gain the insights they need for product development.
Christopher: This is the approach we have adopted, where we do not own the data, but instead we develop algorithms to create aggregated anonymised insights. The industry at large needs to think about the concept of privacy by design. We are all patients at some point in our lives, so it's about protecting our own data. As Javier has said, there are regulatory constraints in various markets, so working with partners who have the right processes, procedures and controls in place is important. It is possible to work with population datasets in various countries and build insights without taking any patient data out of those countries. Another important consideration is that you know and are compliant with the data protection regulations in each country, because in some jurisdictions you cannot build a model without the full consent of every individual whose data you are learning from. With that in mind, we have been reluctant to move models around and, in fact, build the model country by country. We can transfer the high-level data from the model, which means you don't have to repeat the same work in every jurisdiction, but there is no need to move patient data at all.
Javier: We need to start building for a future where a patient controls the data and bring forward technology that helps the patient understand how their data is being used and give consent as to whether that data can be used. There is a lot of data that the patient is generating that isn't in traditional health care databases, so in the future it will be up to the patient to decide whether those data sources can be connected and used, on a situation-by-situation basis.
Matt: I would love to see every patient have their own digital data donor card, where their data is stored and where you have sovereignty over the data. Then you can decide which data to share and with which company. I have this vision of being able to simply hold up your donor data card and transfer that data wherever you want. Similarly, if you had a data passport you could access your health data wherever you are travelling.
Javier: The technology to enable a data passport is already here. We use it to gain access to financial information anywhere in the world. So, there is no reason why this can't be done with health information. In addition, countries are quickly evolving and adopting a more digital approach how data is shared. We need to keep continuous track of this situation because as we generate more data, we can demonstrate to the authorities that this digital data sharing approach is effective, and that the quality doesn't suffer.
Christopher: This would need to be a world-wide standard that is not beholden to any company or country, and it may require updates to the GDPR and other regional legislation, with the individual at the centre and protected so their data is portable without any laws being broken.
The promise of AI from a patient perspective
Matt: There is so much data available from so many different sources, and it is growing on a daily basis. I don't believe any human being can collate that data fast enough because there is just so much. So, as Martine has said, we need to decide what data we are going to use, because otherwise it will combust the system. And for that AI will be critical.
Christopher: I think one of the challenges we are going to have to deal with, particularly for cell and gene therapy, is that these are very often one-off treatments. The patient is treated and gets better, which makes follow-up a challenge, but it is essential to prove that the product works. How do we encourage those well patients to stay engaged and to continue to share their data? We will need to ensure that patients can share their data while remaining protected. With regards to the use of AI to review data to find patients with very rare diseases, AI can review records in a fraction of the time that it would take clinicians. In fact, we have an example that shows data reviews done by AI would have taken 87 human years to complete but can be done in no time using good AI algorithms. So, AI does answer that problem, but we need to demonstrate that fact and monitor follow-up in an ethical way to get buy-in, and to demonstrate the value proposition for patients.
Javier: At Syneos, we have implemented a couple of solutions specifically for long-term follow-up of gene therapies with a patient-centric design. We're also looking at how to reduce the number of patient visits to the clinical trial to the absolute minimum and enable data to be collected digitally so it is easy for the patient.
Martine: This goes back to the importance of enabling patients to get involved in clinical trials remotely because we can't expect patients to travel across the country or state to participate. We need to make it easier for patients to share their data while ensuring they are protected. We also need to get all stakeholders to agree, which means having a risk management plan around long-term monitoring that also take into account national regulations.
Matt: From a personal point of view, if my data can help other patients then I don't mind foregoing privacy, because there's nothing that can happen to me that hasn't already happened, so why not share my data to help others. To get patients more comfortable using digital tools and sharing their data, we need to have a shared purpose, and for patients that purpose is living your best life. The purpose of the tools that patients are wearing is not to collect data for the sake of collecting data, but to help the patient live their best life.
Conclusion
RWE is generating insights that will transform the health care industry's knowledge about rare diseases that coupled with AI, will help connect the right patient to the right treatment, but rare diseases are pushing that agenda forward even more rapidly.

To truly break through the barriers with developing therapies for patients with rare diseases, industry must ensure that the approach they take is patient-centric, that they are transparent about how data is used, and that they are committed to a shared purpose – which is to help patients in need.
With special thanks to
Martine Zimmermann, PharmD, Global Head of Regulatory Affairs, Alexion Pharma

Pharm D, with 25 years' experience in drug development and Regulatory affairs in all sectors: (NCE, vaccines, biotechnology) and for all region of the world: USA, Europe, Japan rest of the world. Specific expertise and interest in drug development and registration in Japan.
Experience acquired in Japanese, French, Danish and American pharmaceutical groups.

Matt Eagles, Head of Patient Engagement at Havas Lynx
I am a positivity activist, a passionate Patient Champion, Advocate, Keynote speaker, Event Chair, Moderator and Panellist. I also head up a unique project helping people with Parkinson's and their families live brighter happy lives turning potentially awkward situations into ParkyWins. www.parkylife.com
Javier Jiménez, Executive Vice President, RWE and late phase, Syneos Health
Executive Vice President, Real World Evidence and Late Phase development. Javier has a history of working with rare diseases and the challenge of developing treatments for these conditions.